Reuben GREENTREE
(1805-1881)
Return to Main Page or Back to the Top
Return to Family Group Index Updated 29 March 1999

Reuben GREENTREE

b 30 Nov 1803 in Southwick, County Southampton (now Hampshire). D. 7 Dec 1881.
His father was Henry GREENTREE and his mother was Jane POPE.
Wife: Ann FARLOW.
Their children:
Mary Anne GREENTREE
Robert GREENTREE.
Maria GREENTREE
HenryGREENTREE
Anne GREENTREE.
Elizabeth Jane GREENTREE.
George GREENTREE b 3 May 1838 at Windsor, AUS d 11 Oct 1909 M Elizabeth CAVENAGH.
Reuben GREENTREE.

Henry GREENTREE
(c1775-80 - 1818)
Return to Main Page or Back to the Top

Return to Family Group Index Updated 28 Oct 2007

Henry GREENTREE

b c1775-80 at Southwick, County of Southhampton (now Hampshire), ENG. D. 1818 at Wilberforce, NSW,AUS.

Henry and William GREENTREE were originally sentenced to death for stealing two wether sheep. On the day before their execution, the sentence was commuted to transportation for life. They arrived in Sydney, Australia on 27 Jan 1815 aboard the Marquis of Wellington. It has not been possible to prove (so far) if they were brothers or cousins. A Richard Greentree was also transported for stealing. Here are notices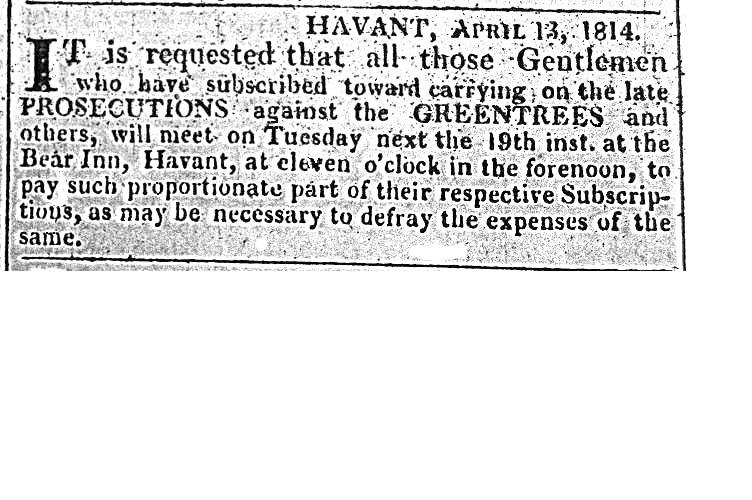 one and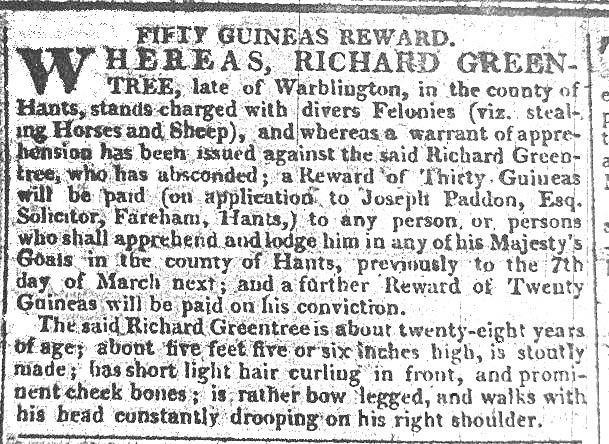 two from the Hampshire Telegraph of 1814 about the Greentrees.

Wife: Jane POPE.

They were married at Westbourne, West Sussex in 1803 and lived in Leigh in the neighbouring parish of Warblington, near Southampton.
Jane Pope
At the time of his trial he was 32 years old, and five months after he was sent to NSW Jane followed with their five children aboard Northampton arriving as free citizens at Sydney 16 June 1815. By 1816 they had claimed a grant of 2 acres at Wilberforce and had their 6th child.
Their children:
Reuben GREENTREE b 30 Nov 1805 at Southwick, ENG, d 7 Dec 1881.
Henry GREENTREE. B at Southwick 1807-1887.
Frances GREENTREE. B at Warblington 12 June 1808.
George GREENTREE. B at Warblington 3 June 1810.
Thomas GREENTREE.B at Warblington 16 Jan 1814.
Jane GREENTREE b 1816 at Wilberforce, NSW, m George Humphries in 1832 and moved to Bathurst.

George Henry GREENTREE & Lucy
(1856-1922)
Photos of George & Lucy's

gravestone at

Warblington Church of St Thomas a Becket, Hampshire.
Return to Main Page or Back to the Top
Return to Family Group Index Updated 28 Oct 2007